Reaming Shells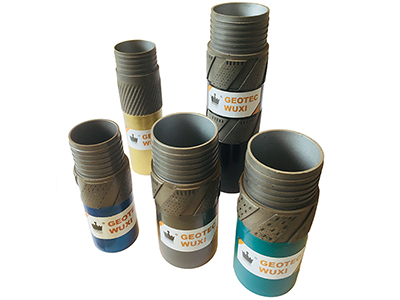 Brief Introductions of Reaming Shells
Reaming shell is used to couple the drill bit with the core barrel. It is suitable for use on all conventional and wireline core barrel. This product is mainly designed to ream the hole to the standard diameter. It can keep the stability of the core barrel. When the old bit is replaced by the new one, reaming shell can also provide sufficient clearance for the new bit. It can also help to resist the abrasion of the core barrel. This type of diamond tool is physically longer than the standard type.
Ranging from broken, abrasive to consolidated and non-abrasive formations, reaming shells are all suitable to use. We can produce reaming shells with 6", 10" and 18" length.
Features of Reaming Shells
1) Act as a stabilizer for drill bit.
2) Being designed with natural or synthetic diamond.
Our reaming shells enjoy the best quality and most special design in the industry. With several different types, we will try our best to satisfy any of your requirements.
Type
We can also produce 10" and 18" Reaming shells, which are mainly used for layer formation covering broken rock, abrasive rock and non-abrasive rock. As this reamer is longer than the standard type, properly extended inner tube is required to use here.
Available Size
Wireline series: AWL, BWL, NWL, HWL, PWL (Front-end, Back-end)
T Series: T36, T46, T56, T66, T76, T86
WF Series: HWF, PWF, SWF, UWF, ZWF
WT Series: RWT, EWT, AWT, BWT, NWT, HWT(Single Tube/Double Tube)
WG Series: EWG, AWG, BWG, NWG, HWG (Single Tube/Double Tube)
WM Series: EWM, AWM, BWM, NWM
T2/T6 Series: T256, T266, T276, T286, T2101/T676, T686, T6101, T6116, T6131, T6146, T6H
Others: NMLC, HMLC, LTK48, LTK60, TBW, TNW, ATW, BTW, NTW, AQTK , NXD3, NXC, T6H, SK6L146, TT46, TB56, TS116, CHD101